Isolation getting you down? Here are 10 of my personal favourite classic films to while away the hours and why you need to see them!
10. REBECCA (1940)
Ok, I admit: Alfred Hitchcock's
Rebecca
(1940) really should be number 1 or 2 on this list - but I really wanted Judith Anderson's brilliantly creepy Mrs Danvers as my display picture for the blog post!
Pretty but plain Joan Fontaine marries the brooding Maxim de Winter (Laurence Olivier), a mysterious aristocrat who whisks her away to a new life at his sprawling country estate "Manderley" in Cornwall. Maxim is still deeply troubled by the death of his first wife Rebecca, a spectre who, unseen, still makes her presence known in the grand house, tormenting the new Mrs de Winter.
Perfect in every way,
Rebecca
was Alfred Hitchcock's first Hollywood film, and producer David O. Selznick's first film after
Gone with the Wind
(1939). Cinematographer George Barnes used a new technique known as "deep focus photography", which used a large depth of field, perfect for shots of the hugeness of Manderley which dwarf poor frightened Joan Fontaine as she is being shown her new home by the butler Frith; and the score by Franz Waxman is iconic. It was a star-making role for Fontaine, in a role originally envisioned by Selznick (unbelievably!) for the fabulously fun Carole Lombard! But Judith Anderson really steals the show, with a deliciously sinister performance. She barely blinks, and GLIDES into shot rather than walks!
Oscar wins for
Rebecca
: Best Picture and Best Cinematography. Nominations: Hitchcock for Best Director, Best Actor and Actress for Olivier and Fontaine, Supporting Actress for Anderson, Best Editing, Best Music, Best Art Direction, Best Special Effects.
The book by Daphne du Maurier on which the film was based is also phenomenal (and includes a couple of crucial plot points the film completely changed!)
9. GENTLEMEN PREFER BLONDES (1953)
Howard Hawks' 1953 musical
Gentlemen Prefer Blondes
was the high point of Marilyn Monroe's early career and built the foundation, along with
How to Marry a Millionaire
(also 1953) for her screen persona.
MM and Jane Russell play Lorelei and Dorothy, American showgirls on a transatlantic cruise to Paris, meeting many admirers along the way. Dorothy (Russell) is in it purely for love, while Lorelei (Monroe) is a charming gold digger with a penchant for diamonds. They are trailed by a detective, employed by the father of Lorelei's wealthy fiance, who promptly falls for Dorothy.
Musical numbers include the iconic "Diamonds are a Girl's Best Friend" and Russell's "Ain't There Anyone Here for Love". In the latter - watch during the number as an Olympic diver inadvertently kicks Russell headfirst into a pool! From which she emerges with characteristic good humour and finishes the number flawlessly dripping wet! Years later an interviewer said to Russell: "You handled that well. None of the other stars of the time like Lana Turner or Rita Hayworth would have coped that well with being thrown into a pool." To which Russell replied, with characteristic dryness: "Well ya can't ask 'em that, 'cos they're DEAD!"
8. SINGIN' IN THE RAIN (1952)
It's hard to think of a more indelible image than the one of Gene Kelly dancing through the flooded streets singing the title track of
Singin' in the Rain
(1952). Lauded as one of the greatest films of Hollywood's golden era, the film more than lives up to the hype.
Kelly plays Don Lockwood, a silent screen lothario who has been paired onscreen with the beautiful Lina Lamont (played by the brilliant, underrated Jean Hagen) for a number of years in hit romantic dramas.
When silent movies are replaced by sound films, everybody has to adapt. Unfortunately, unknown to the public, Lina has a terribly raucous Brooklynese accent which, try as she might, she simply cannot smooth out. Enter Debbie Reynolds, who provides a beautiful speaking and singing voice for Lina to mime to. Simple right? Well not quite! Complications ensue, providing much humour and top-notch musical numbers!
7. WOMAN IN A DRESSING GOWN (1957)
Time for a British film now, the 1957 romantic drama
Woman in a Dressing Gown
.
Yvonne Mitchell plays a housewife who, try as she might, just cannot get her house sorted. There are half-mended pants, old cereal boxes, old socks, unemptied bins, tattered magazines and numerous other detritus of domestic drudgery littering her family's small apartment. She and her husband have an adolescent son, almost grown, and she feels happy and content in her messy little world, spending her days in the soiled dressing gown of the title. Less content is her husband (Anthony Quayle), who has commenced an affair with an attractive assistant (Sylvia Syms) at his work. When he tells his wife he wants a divorce, she makes a last ditch effort to spruce herself up in an effort to save her family.
A gripping, often heartbreaking performance from Mitchell, who won the Silver Bear as Best Actress. The film also won four awards at the 7th Berlin International Film Festival, including Best Foreign Film, and a Golden Globe for Best English-Language Foreign Film.
6. DEATH ON THE NILE (1978)
When a film is based on a book by Agatha Christie, is set (and filmed on location, not in a studio!) in a exotic locale like the River Nile, and has a cast including the likes of Peter Ustinov, Bette Davis, Angela Lansbury, David Niven, Maggie Smith and Mia Farrow - how can it not be fabulous!?!
Linnet Ridgeway (Lois Chiles) is a glamorous heiress on a honeymoon cruise on the Nile with her handsome new husband (Simon MacCorkindale) during the roaring 1920's. Unfortunately also along for the holiday are assorted characters she has done harm to in love or business over her short life. When she is inevitably murdered, famous sleuth Hercule Poirot (Ustinov) commences an investigation which not only puts his own life in danger, but will result in the murders of many more of the passengers aboard as the murderer attempts to cover their tracks.
Angela Lansbury steals the show as a ludicrously bejeweled alcoholic romance novelist, and the bickering interplay between Bette Davis and Maggie Smith is great fun! With Academy Award-winning costumes by Anthony Powell, an amazing memorable score by Nino Rota, and beautiful cinematography by Jack Cardiff which is more like a travelogue of Egypt,
Nile
is a most enjoyable 140 minute investment!
5. SUNSET BOULEVARD (1950)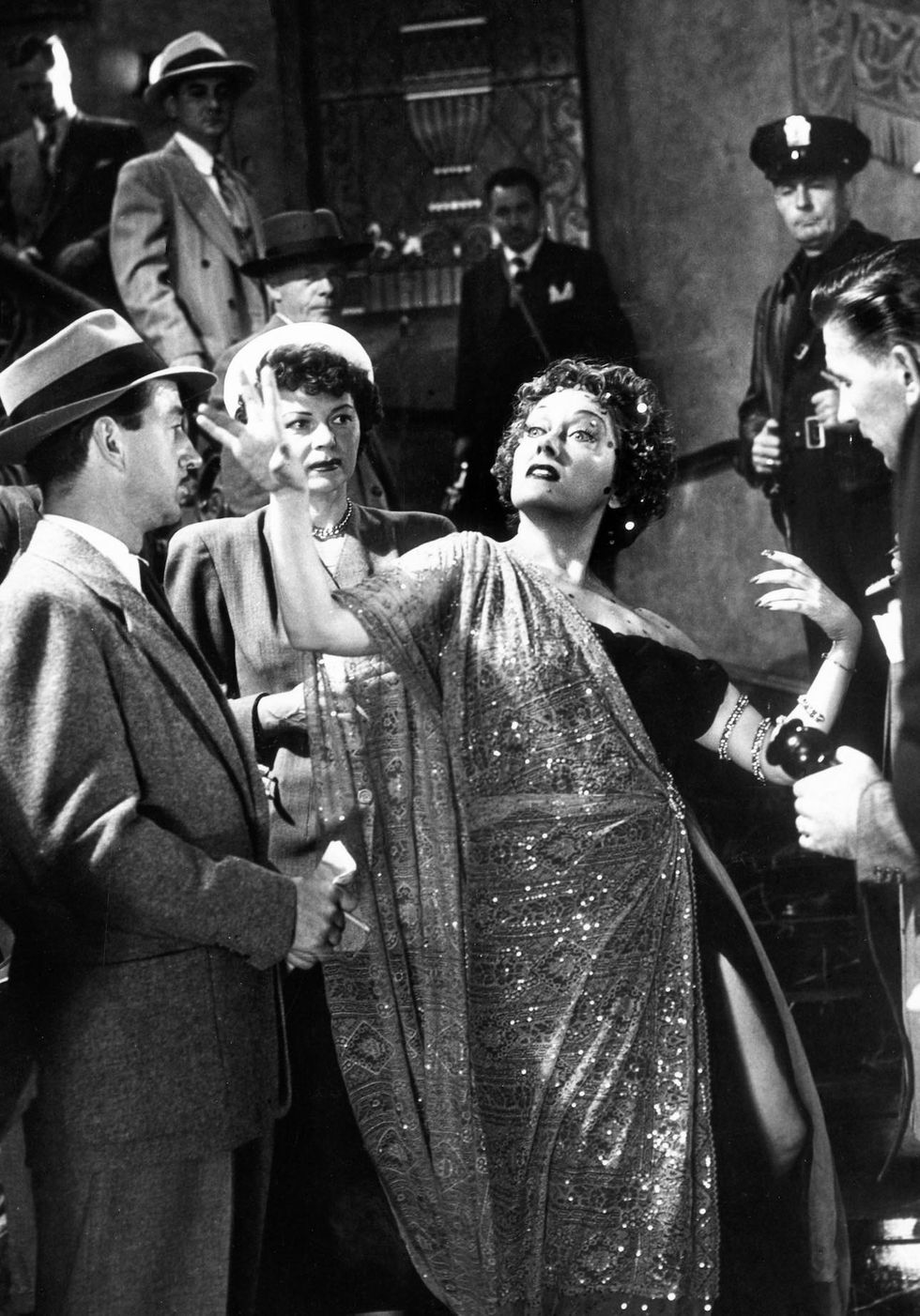 It was brilliant casting for director Billy Wilder to secure an icon of another age to play an icon of another age in
Sunset Boulevard
(1950). While Gloria Swanson was no Norma Desmond in that she was still an intelligent, active woman in many fields of endeavour, including business, sculpture and the occasional film, she was best remembered as one of the biggest silent film stars of the 1920s. A woman who really did dance with Valentino and dove into the sea as a Mack Sennett bathing beauty. So for Wilder to convince a star of her magnitude to essentially play herself was a huge coup. (He had tried and failed with Mary Pickford, Pola Negri and Mae West!)
William Holden is Joe Gillis, an out-of-luck and out-of-work writer in Hollywood. One day driving his car, escaping repo men, he darts into the garage of an abandoned-looking mansion on Sunset Boulevard. He is quickly beckoned in by Max (Erich von Stroheim), a creepy butler with an ominous accent and led upstairs to the silken boudoir of former screen star Norma Desmond. It then dawns on poor Joe that his hosts are labouring under the misapprehension that he is a pet undertaker there to conduct the funeral for Norma's beloved pet chimp!
So begins a spectacular peek behind the tattered curtain of old Hollywood!
Sunset Boulevard
won Academy Awards for Best Writing, Best Music and Art Direction, and was nominated for Best Film, Director, Actor, Actress (Swanson was robbed!), Supporting Actor, Supporting Actress, Cinematography and Editing.
4. THE RAINS CAME (1939)

With the coronavirus pandemic, I had to select a plague-themed film! Set in India at the height of the British Raj, Myrna Loy plays against type as Lady Edwina, the hard-bitten wife of Lord Esketh (Nigel Bruce), a pompous aristocrat. They're in Ranchipur to purchase racehorses and clearly have a loveless marriage. Myrna meets and enjoys romances both with an old love interest (George Brent) and a dashing and ambitious local doctor (Tyrone Power). When the region is ravaged by an earthquake, a dam fails, flooding the countryside and killing thousands. Disease soon sets in, and Edwina forgoes her formerly glamorous, selfish life and volunteers at the local hospital, redeeming herself in the eyes of her doctor, who previously thought she was a bit of a slut! Unfortunately fate intervenes, as it always does in a grand old melodrama!
Spectacular special effects for the time, and a unique cinematic experience - one can almost feel the humidity and rain through the screen.
Nominated for six Academy Awards,
The Rains Came
won for Best Special Effects and Sound Effects, over other nominees including
Gone With the Wind
.
3. THE POSEIDON ADVENTURE (1972)
Anybody who knows me will GROAN when they see The Poseidon Adventure on my list! I have subjected my loved ones, friends and acquaintances to multiple viewings and constant trivia tidbits on everything from Stella Stevens' panties to the dining room extra known as "Too Tan Lady"! I don't believe Poseidon is among the greatest films ever made, but it is high up among my personal all-time favourites, and through familiarity, it makes me feel warm and safe and happy.
On New Years' Eve, the ageing luxury liner the SS Poseidon is cruising through the Mediterranean when it is capsized by a tidal wave. Most of the passengers are in the dining saloon enjoying celebrations when the wave hits, and Reverend Scott (Gene Hackman), a renegade preacher, convinces a small group to make a daring escape through the upside-down bowels of the ship to hopeful safety out through the very keel of the vessel. Many will not survive and there will be trauma, and oddly - laughs! - along the way.
Made at the end of studio system, producer Irwin Allen assembled an all-star cast of familiar faces, and one of the joys of the film is watching the stars interact onscreen. Promotional material at the time it was released teased WHO WILL SURVIVE? and this is one of the major hooks.
The film won two Academy Awards, a Golden Globes, a British Film Award and a Motion Picture Sound Editors Award. By the end of 1974, it ranked as one of the six biggest moneymakers in film history.
2. NORTH BY NORTHWEST (1959)
Forget James Bond, IMHO Hitchcock's North by Northwest is the most thrilling film ever!
Cary Grant is Roger Thornhill, a suave advertising man who inadvertently becomes involved in a bizarre cross-country chase involving spies, double agents, microfilm, the police and a glamorous Mata Hari-esque woman (played by the enchanting Eva Marie Saint).
The screenplay is by Ernest Lehman, who wanted to write "the Hitchcock picture to end all Hitchcock pictures". He succeeded! Hitchcock had spent the previous three decades perfecting the art of cinema suspense, and assembled a cast and crew of people he'd mainly worked with many times before, all of them absolute perfection - from supporting players, to cinematography, editing, and music (with a particularly thrilling score by Bernard Herrmann.)
North by Northwest was nominated for three Academy Awards, but lost two of them to Ben Hur, the other incongruously to Doris Day's Pillow Talk.
1. GONE WITH THE WIND (1939)
The ultimate classic film experience, Gone With the Wind has everything on screen and a fascinating back story.
Then practically an unknown, particularly in the US, Vivien Leigh gives an exemplary performance as Scarlett O'Hara, a spoiled Southern belle whose life of security is torn apart by war and famine, leading her to vow spectacularly from the war torn ruins of her beloved plantation "Tara" that "as God is my witness, I'll never be hungry again!" She rises like a phoenix from the ashes, to wealth and power, but love eludes her, or does it? Did she have it all along without realising?
Dozens of actresses sought to play Scarlett, from Bette Davis to Joan Crawford to then-newcomers like Lana Turner and Susan Hayward, but nobody could have brought Margaret Mitchell's heroine to the screen quite like Vivien Leigh. Her beauty, determination, ambition and intelligent approach to the role makes this one of the greatest performances ever brought to film. Hattie McDaniel, as Mammy, adds so much heart and humour to her role, and was the first African American to win an Oscar.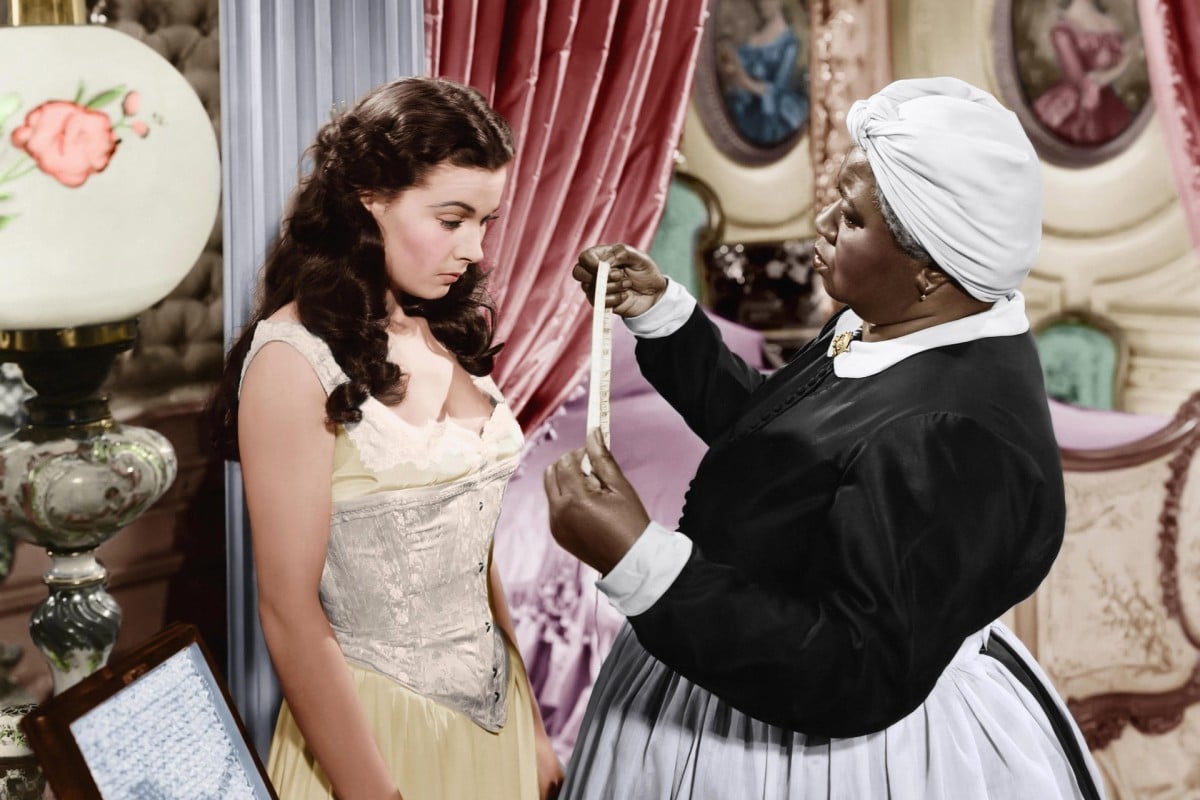 Winner of ten Academy Awards, the scope of the production makes it for me Hollywood's best, a monumental classic, and a MUST-see for these troubled times.
Enjoy! x